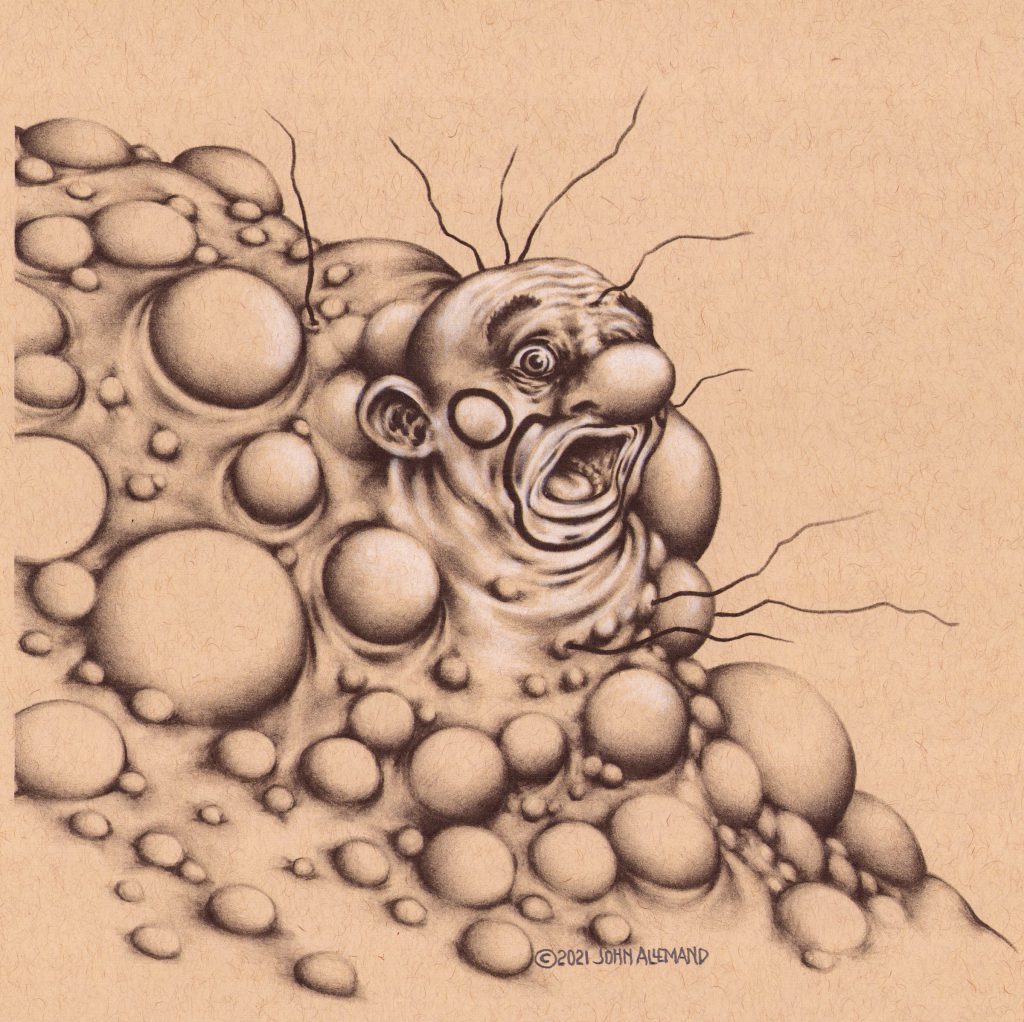 Pimple Face Pat is a bubble of puss,
throbbing and itching to burst,
trying his best not to strain and fuss,
lest somebody squeezes him first.
Herbert had been prone to rashes since he was a kid. He caught them all, like a rash magnet…it was inexplicable. He had at least three rashes on any given day of his life. As a sickly nerd, he never had friends…..so how the heck did he get chicken pox? He never had sex, so where did he get crabs? Hell, he had rashes no one ever heard of. He was a spotty, itchy, miserable pariah (though he was a delight to his dermatologist).
Anyway, when the 'Speckles' showed up, Herbert was neither surprised nor alarmed…but when they became an infestation, weird stuff started happening. All his old rashes now had a rash of their own. The Speckles definitely did not respect other rashes' turf. His chicken pox grew feathers and beaks, his goose bumps grew long necks and started nipping and spitting at other rashes and his scarlet fever?…WOW!… well…lets just say that when she reached puberty…things got REALLY awkward.
The Speckles went on to occupy every inch of Herbert and ousted all his other rashes – which would have been good except that each Speckle became enormous, grew a face and took on a personality of its own. They started talking amongst themselves – argued with each other constantly (about religion and politics, ugh!) and sang bawdy songs at all hours. It made things quite uncomfortable for Herbert, though not as bad as the realization that they'd become stronger, smarter and cooler than him. It wasn't long before Herbert diminished completely into the shadow of his own brilliant speculations…
***Oh, how this reminds me of my teenage years…though my speckles were quite amiable and we were all into the same music. My new book, "Body-Oddies" is finally done and ready for the printer. Meanwhile, we DO have four other books for sale…find them at www.etsy.com and search EEWbooks. -Marsha