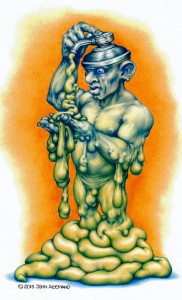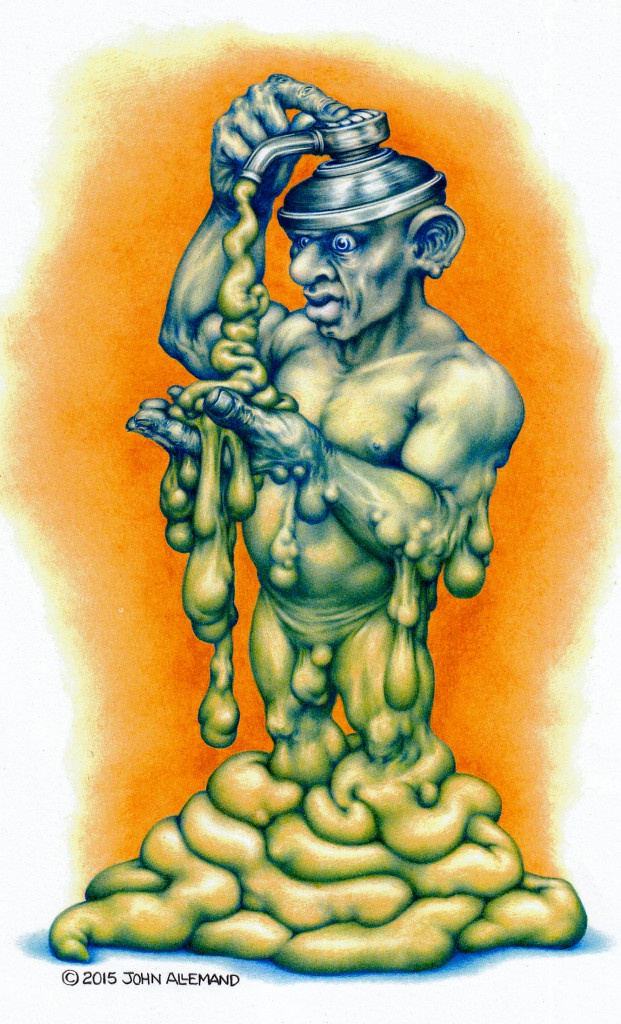 "Constant gravy!?…did he say constant gravy?" but everyone was already busy writing and the professor's response was garbled…but sure, constant gravy seemed right.  I was feeling pretty woozy since I cut myself shaving earlier and couldn't make it stop bleeding.  It just gushed, thick and goopy…yeah, constant gravy…coool!
What began as a simple nick under my nose, got worse a few minutes later when blood started running down my cheek.  An hour later, it was dripping copiously.  In two hours it was a steady flow and by lunchtime I was squirting all over the place, soaking my clothes, the furniture and the walls and it was impossible to concentrate as the room kept spinning faster and faster…..
I must have spaced out for a while because when I woke, the stuff leaking out was no longer red.  Thankfully it was just cheese wizz leaking from the push nozzle on my head.  What?!…don't you have a nozzle?…and what's so weird about that?  Best of all, the harder I pumped the thicker it flowed…aaaaah, pretty…..
I must have spaced out for a while but was relieved to see that I wasn't bleeding any more and it was actually gravy all along…and doesn't everybody get their gravy from a cut on their face?  My gravy was really warm and rich, mmmmmmmm.  It was bluish green with vermillion streaks and had delightful lumps of darkish mauve.  Clear waxy bits of rice and corn changed into garbanzos and back.  There were gangly chunks of chicken and potatoes with a sprinkling of cayan pepper fins, oregano claws and ground curry scales.  Carrots, onions and celery swam serenely with a school of minced garlic on the aroma of steamed guacamole tails…oooooh!  I love a good stew with gravy, especially when I'm feeling so limp and cold…Just the thing to pick me up…..
I must have spaced out…what was I saying?…..
***This really happened.  It's lucky that John got a good sketch of this guy at the writing workshop before things went sideways.  This post is an illustration from our BODY-ODDIES book, whose publication was just bumped to next year.  EEW Books decided to give John (the illustrator) more time to do a better quality job.  It's a little weird, I never worked with a company who cared about quality or had any discernable integrity…  In the meantime, I am finishing up on an illustrated sci-fi/flash-fiction book, to be published first – this year.  You can find all of our current books at www.sallemander.com.   -Marsha