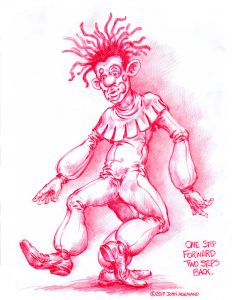 Milton was an odd fellow. Everybody thought so. He had wild ideas about everything from politics to gardening. He thought animals would be healthier if we didn't butcher them. He thought terrorism was a bad way to fight terrorism and had, daily, heated arguments about transference with the wooden Indian outside the smoke shop….very odd.
He painted a creepy clown face with purple polka-dots on his van (even though he can't drive). He muttered bizarre things to ladies as he passed them in the streets, like: "Have a nice day!" and "Love your head scarf!!" – it was horrifying. Last week he predicted the world would end two years ago and hung unauthorized presidential campaign posters for 'asparagus' and 'enchiladas' (even though they were probably better candidates)…and every time he ate pickled anchovy sandwiches with mayo and peanut butter, his breath still smelled like beef jerky…..Huh!
For all this and much more, Milton was the subject of intense gossip all over town. He often made the front page of the local Gazette and people got into fist fights over the consistency of his guacamole. To some, he was a nuisance, to others a local folk hero – and to others still, a tourist attraction.
Well, that was all good and fine for most folks…but for me, seeing him stroll about with three fully grown legs – one facing front and two facing back, was truly a marvel…..and wow, what a snazzy dancer!
***This is a sketch and flash fiction piece for my "Body-Oddies" book project, which is well underway and on schedule for publication in 2020 (that is, if John can get his lazy ass in gear and finish the illustrations).  The publisher is really excited with the whole project.  You can buy our first 3 books by following the links to www.sallemander.com or go to EEWbooks at Etsy.com.    -Marsha Mellow