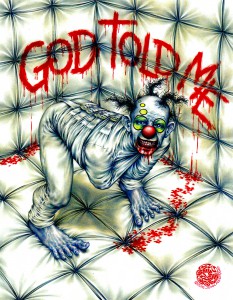 We never spoke about Uncle Dixon. Our whole family tip-toed around the subject…but I could tell there were powerful feelings just under everybody's skin.  He was a horrible pariah.  The black sheep of the family.
We kept him straight-jacketed in one of the padded cells in the catacombs below our cabin.  He was never allowed out in the light of day (lest one of the neighbors spot him), only after midnight on stormy nights and always tightly chained, gagged and bound in one of those psycho metal hockey mask get-ups.  He got wheeled around in a steel cage on a hand truck under constant, heavily armed guard.
As if that wasn't bad enough…Uncle Dixon was never allowed to go wilding with the rest of the family, never allowed to invade homes, to rape and burn and shoot folks in the face with shotguns or dismember them with his best machete before skinning and roasting them on the Bar-B-Que for the family feast…..how sad and dull.
I felt bad for him.  What possible meaning could his life have?  I always wondered what awful thing he could have done to deserve such treatment – until I overheard Pappa Ripper telling old cousin Head-Stomper that Dixon was a pacifist, an atheist and… a vegetarian (whatever that was).  He also said that he had NEVER murdered a baby in his whole life – actually refused to do it!!!  Eeeeew!  What a Freak!?!
***Every family has at least one crazy relative that makes Thanksgiving an unforgettable event rivaling any ten episodes of The Jerry Springer Show….and worth 6 months of therapy.  I think my illustrator, John, serves that role in his family.  John's illustration is from our book, 'Bludgeon the Clown', scheduled for publication in 2017.  -Marsha