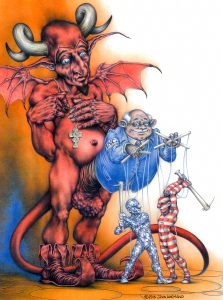 What a lovely outing! It was a gorgeous day in America, strolling about in broad daylight was so uncommon for HIM that he was exhilarated to the point of giddiness.
As an unconventional fellow with such an unusual profession and an incredibly off-putting appearance, it was downright strange to pass through so many 'normal' social situations, this wonderful day, with little notice – with barely a sideways glance from the people he encountered.  To be sure, he certainly enjoyed the tremendous effect he'd always had on people in ages past.  It amused him to no end to see them faint, scream, flee in horror – even die on the spot…..but today, not even the sight of Lucifer, The Devil himself, phased these modern Americans, so jaded and broken.
They actually applauded him as he made his way to the stage to moderate this season's first presidential debate.  He marveled at their cognitive dissonance, knowing how completely screwed they will all be, no matter which of THESE candidates win…..and to think, he didn't even pick them this time.  They did that aaaaalll by themselves.
***I spotted him coming out of the debate with a forlorn look of such profound disappointment, I thought he was going to cry.  Our eyes met for a second and I knew exactly how he felt…because I felt it too. 
***Any way, Our Etsy store/site is up and running with our two new books and 12 original art prints for sale.  Go to etsy.com, search for EEWbooks and 'fave' my page.  Thanks.  -Marsha