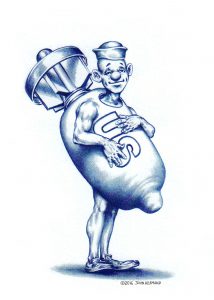 Willy Pete was the smartest person he knew. He was thinking all the time.  He had little else to do in his crate – yes, Willy lived with several other smart fellows like him – in a crate, in a warehouse.  For their first few years they were moved around a lot.  They were transported from warehouse to warehouse, in different parts of the world, sometimes by truck or by ship or by cargo plane.  Willy could always tell where they were by the air pressure, humidity, altitude, motion… because he was REALLY smart.  Eventually, he and his fellows were let out of their crate and clamped under the wing of an airplane.
Willy Pete loved flying from the moment they took off.  He loved the speed, the wind in his face and that he could finally see everything in the wider world – rivers, mountains, fields and forests…and all of it made him even smarter.  They flew for hours and hours and every moment was wonderful.
They careened mere feet above the ocean waves, steered wildly through desert canyons and between tall buildings – then angled upward and climbed so high above the clouds that he could almost touch outer space……But as they dropped back down toward the city below, Willy received a signal which armed him for what he realized was his true purpose.  The wing clamps released, his cameras and control fins activated and a pilot, half way around the world, took control and guided him toward his target.
Willy thought feverishly, knowing he had just seconds left (that apartment building was getting huge, fast) wondering why he was released.  He trusted…he HOPED he would serve a noble purpose.  He yearned for the chance that his death might have meaning…perhaps to save the world?
But as he crashed through a kitchen window, plowing through furniture, appliances and toys, he saw the startled look on the faces of several people gathered for an evening meal – and counted no less than six children around the table – as he explo………
***Exploded…..I think it meant to say, "exploded" before the transmission ended.  We do beautifully illustrated and written, uncensored high quality, locally printed and produced books for EEW Books.  Find our books at www.sallemander.com or on ETSY at EEWbooks.   -Marsha