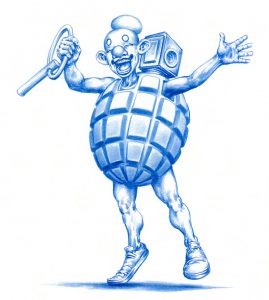 I once met a clown named Jack, who shoved a grenade up his crack. They recovered his penis halfway to Venus and both of his balls in Iraq.
***Today we celebrate our '279th post'…and every 279 posts we publish the most offensive dick-n-balls, exploding clown limerick we can find. This one comes to us from Venus the Clown (a major contributor to our new book "Bludgeon the Clown"). John (the artist) claims Venus lifted it from his notes and reworked it to put his name in it. He says he heard it a decade ago from an old friend, Robert Kopecky, when they worked on 'Codename: Kids Next Door' together. I think John just hates my good friend Venus and likes to ruin my '279th post' celebration. Fuck you, John! -Marsha
*P.S. The only problem with the Venus' limerick (besides being disgusting) is that you have to mispronounce Iraq, like an ignorant American (eye-rack), for the rhyme to work properly.