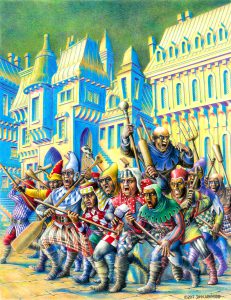 Book Excerpt:
Its Not The Size Of Your Clown…
Peevish, North Dakota.  It seems that the smaller the clown, the angrier, more irritable they are.  This image was made during the last of three riots that day.  There was no media coverage and no arrests.  In fact, nobody in town even realized they had an infestation of teeny-tiny clowns…or what they were so upset about.
While clowns come in all shapes and sizes, the tiny ones are the trickiest.  They come smaller than you'd think possible and they get into everything.  They wrote an amusing folk tail or two about one no bigger than a thumb…but the teeniest ones are often mistaken for a viral outbreak (clever).  When I agreed to have a wild party with that kooky bunch, I didn't realize I'd be hosting it in my belly for three solid days (not solid…ugh!!!).
***Another page that did not make the final cut of our new book, "Bludgeon the Clown."  The illustration, by John Allemand, was originally commissioned for the June 2003 cover of Analog Magazine.  -Marsha