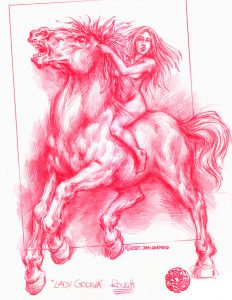 GODIVA  (book excerpt, page 64)
Saggy Bottom, West Virginia.  The most important thing about this image of Godiva the Clown is that she is not just your average tattooed chick on a raging purple horse…..what you see is all Godiva, horse and all.  I was already impressed with her before I realized… well, just how dynamic her lady parts were.  But WOW!!!
Back in the day, between the oil wars and the water wars – before crazy fascists started hunting clowns and anarchists and Indians (again) for their skins – it was hard to go half a block without running across another painted, naked wench on a hybrid psychedelic farm animal.  It was high fashion for a while.  It was even worse out west with winged warthogs and angry caterpillar chicks trophy hunting for penis.  Aaaahh…..can't wait 'till those were the good old days.
***The image above is the original red rough sketch for the illustration on page 65 of "Bludgeon the Clown."  I have never posted the final image.  If you want to see it, you'll have to buy the book.  I reserve the BEST art for paying customers.  Find it and buy it at www.sallemander.com or search EEWbooks at etsy.com.   -Marsha