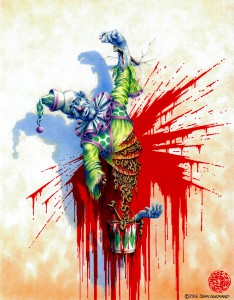 Food was scarce.  People were struggling.  The war was taking it's toll as there were shortages of everything from fuel to toilet paper to empathy.  Rationing was severe and people were showing signs of stress.  There was unemployment, hunger and daily violent protests against the government who caused this blowback war after decades of capitalist conquest.  There was no sign of improvement on the horizon and…..food was scarce.
Leon's Bar and Grill, however, seemed to be an exception to the misery. Leon, the proprietor, had a brilliant (desperate) idea a few months back when he realized he had too many cooks in the kitchen and not enough food to serve.  Seeing his business on the brink of failure, he did the only logical thing;  He 'fired' all his cooks and took over in the kitchen personally.  He posted a new menu featuring 'Chef's specials' like Chef's Stew, Chef Pot Pie and Roasted Leg of Chef.  He fired them all… in the big convection oven (though a few got deep fried, stewed…or grilled…..and one guy got sautéed in a wok) and his business has been thriving ever since.
Funny thing, though…once he solved his cook problem, he settled an old issue with that annoying waitress, Marge and finally took care of that pesky neighborhood Clown who always annoyed his customers as they came and went.
These days, 'Leon's' is the only establishment in town with a 'Help Wanted' sign in the window…and I hear the food's really good.
***We thought a little cannibalism this week would be a welcome break from what has become the norm in America;  Illegal war, torture, kidnapping, rape, assassination, terrorism, corruption,  usury, inequality and a massive political freak show.  Hmmmm…..eating people's got nothin' on the U.S. gov't. – so, bon appetit!  -Marsha