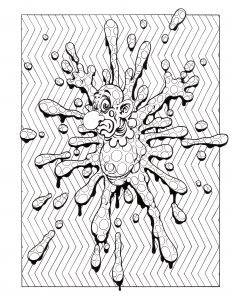 Spartacus Spittle woke up the moment he hit the wall.  What should have hurt like hell, only exhilarated him as he gasped his first breath and his first gooey thought shat through his brain bubbles.  His brand new eyes popped open in time to spot his birth father tromping away in floppy, oversized shoes, a bright orange wig and a baggy, polka dotted jumpsuit.  Spartacus felt a wave of affection wash down his still unformed leg jizzle.
The impact with the wall spattered most of his foamy mass of phlegm in an impressive spread but he was already retracting elastically into a sloppy infant form.  Just below him, however, was the spittoon that his father was aiming for as he made his glorious journey, rumbling up from the lungs and simultaneously snorking down from the sinuses,  commingling on the birth canal tongue to be fired out of his silly painted gob with a convulsive "HORK!!"
As Spartacus clung to the wall for dear life – lest he fall into the spittoon and die – he felt confident that if he'd inherited his father's bad aim he would probably miss the pot anyway.
***As much as I'd love to expound on all the fascinating data we've compiled on Clown reproduction and birth, I'm even more excited about our new 'Creepy Clown Coloring Book', which is where this week's image comes from.  Even better, we've just 'opened' our Etsy shop where you can find both our new books by searching "EEWbooks".  When I figure out the actual link, I'll let you know.  -Marsha