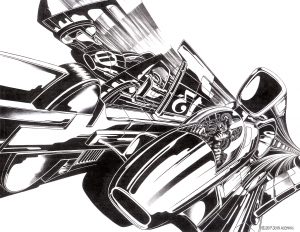 "My seat smells like farts!"  she said, the minute I sat down in the cockpit.
"Oh please!" I said.  "Let's not start that again, you're almost seven years old…believe me, there are worse things your seat could smell of."  I started the engine.
"My struts are almost shot!"  she chimed in…
"I know…" I said (patronizingly), "but your mechanic said they'll be okay for a while longer.  Your struts are perfectly lovely for now," as I adjusted the mirrors and flaps.
"Ooooh, I like my mechanic.  He has such goooood hands…" she cooed.
"Stop!!  That's not something I need to hear." I said.  "Ugh!  Why can't I just have a NORMAL car like everybody else…one that LISTENS!?"
"Oh, you LOVE me," she said.  "Besides, if you hadn't listened to ME, you'd be broke AND divorced!"
"Yeah, instead of just BROKE!!!" I snapped.  She pouted for a bit…I felt bad…kinda.  "Let's just go," I said, quietly.  "We need a good time on this last qualifying run to get pole position."
"I don't like the way you take turn fourteen, and your angle on the following straight-away is too bumpy… hurts my struts."
"Yeah, but it throws everybody off.  It's our best passing opportunity before we get mired in all that switchback traffic before turn eighteen…..Don't worry, I'll take it easier this time."
She was quiet for a few miles…then, "My seat still smells like farts…"
***Another image and story from our new book, "A Short Burst."  I can't express how pleased and proud we are with how well this project turned out.  It is a collection of illustrated flash science fiction scenes and stories, exactly as you find them here. You can buy the book on Etsy.com (search EEWbooks or use the link on our site).  This image was also made into one of the four 4x4in. stickers that come with each online book order.  -Marsha