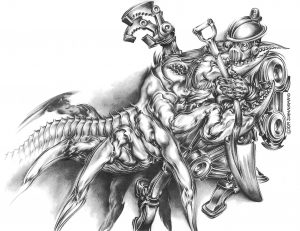 The landscape was barren.  Nothing but tusks and the shattered exoskeletons of the creatures that once populated these plains.  Wherever an animal fell, there it rotted.  There were still faint tread marks in the dirt.  The ones who did this were systematic and efficient.
Men rolled out in heavy transports with ugly weapons, shooting the creatures for sport.  With flame and chemical, they sterilized the surface.   Nothing could survive it…not a blade of grass, not an insect, not even a germ…nothing was left to interfere.
There was a special mineral in the soil and they wanted it.  It was dynamic, flexible and highly conductive…more valuable to them than life, obviously.  It changed everything, replacing and expanding human technology over night, even MY brain was made of it.  It made them rich, but to get it they stripped this land down to its bare bones like a swarm of locusts.  And when they were done, they abandoned it and moved on.
I too was abandoned…damaged during the final round-up.  One of those desperate creatures lunged at me, trying to escape while we slaughtered them… but I was not worth fixing.  It was cheaper to replace me.  I was left in a trash with all the other broken tools.  By the time I managed to repair myself, they were long gone.
I don't know where to go or what to do now.  I'm a relic in the wasteland among the tusks.  Hopeless… but for the tiny sprouts emerging from wherever my footprints have broken the hard, scorched crust…  end.
***This is an illustrated story from our next book (our 4th book), "A Short Burst."  It is a collection of flash science fiction featuring images originally published in Analog and Asimov's Sci-Fi Magazines (among others).  Find our books and stuff at www.sallemander.com or search EEWbooks on Etsy.com.   -Marsha