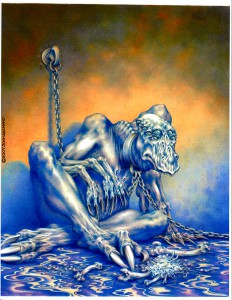 I do nothing all day but sit in my cell, chained to the wall in a puddle of rancid liquid.  The place is filthy, the toilet hasn't worked in weeks and that awful television box is my only form of entertainment.  It screams at me and blathers their inane, selfish 'culture' all day, it's all I can do to block it out, lest I lose my sanity.  The only decent people I have to speak with are the cockroaches, who seem to come and go as they please…
They take me out twice a week to show me off to their military luminaries while their (so-called) scientists run 'tests'.  They mostly probe my anus and shock my genitals and laugh like lunatics as they torture me.  I don't understand their obsession with my junk – and I don't get the reference to it as "payback".  My people have never visited this place before.
They are an ugly people.  I don't mean their pasty, bloated flesh, two meager eyes and stubby fingers that make them look like deformed infants.  I'm referring to their brutish indifference to justice, authoritarian rule and the cognitive dissonance of the masses.  The racist, nasty things they call me…well, I can't even begin to repeat in polite company.  This is certainly no way to treat an ambassador.
I would never have come to this primitive cesspool if it wasn't for engine trouble – and a spread of ballistic missiles that took all the dignity out of my crash landing.  These people ignored my distress calls and now refuse to honor my diplomatic immunity…..boy oh boy, when the mother ship gets here to rescue me, they are gonna FRY this place!
***This piece was first posted on Dec. 8th, 2015 as our 10th post.  The image was a cover illustration that John did for Analog Magazine for the June, 2007 issue.  We needed an easy break this week as we gear up to release our new book, "Bludgeon the Clown."  It's with the printer now and we're hoping to have advance copies to bring to the Lehigh Valley Comic Con on Oct. 7th, where John will be a featured guest artist.  Come join us (I might be there too).  -Marsha