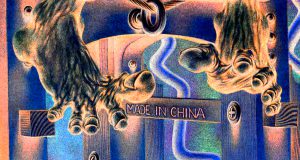 I am Joe's big left toe nail.  See me soar through the air like a demented boomerang.  I know not where I shall land but I'll probably miss the trash bin because Joe's ability to aim the stuff he spits out is for shit.
I guess Joe finally got tired of my glorious reign at the tip of his big toe as master of all I surveyed.  I must have threatened his manhood (or ruined the toe of one too many socks).  He tried to clip me with a fingernail trimmer but I valiantly resisted – and broke it – so he got pissed off, sat down on the toilet and bit me right off his toe with his teeth.
I say, 'Good riddance to Joe!'  I shall become king of all the gross stuff next to his overflowing trash can – as I can see that I am already the mightiest of all the toe nails there and I shall rule for an eternity, since Joe is far too lazy to clean his friggin' bathroom, which smells like the squeaky ass end of a dead rhinoceros on a hot, sunny day.
***Yes, we have the cult classic "Fight Club" to thank for the inspiration for this flash-fiction fragment.  It originated as a prompt in our Saturday 'Free-Write' workshop with the  Montclair NJ Write Group.  I pilfered the "Feet" image from one of John's horrible Clown illustrations, slated for publication in 2017 in our book, "Bludgeon the Clown".  -Marsha