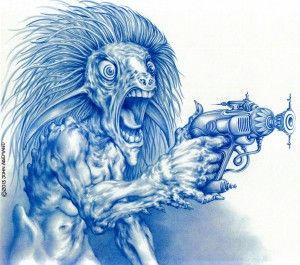 He was lonely. He saw her on a crisp Tuesday morning as he got on the train. She gave him just a fleeting glance…but he was lonely and it was enough. She was attractive. His mind wandered after her all day….no, it raced!
He saw her the following Thursday. She smiled at him (he thought) and he lost himself again in sweet daydreams full of romance. He was lonely.
Two days later, in a light snow, he saw her drop a glove without noticing. He got there first and took it to her…she thanked him in a voice like pure milk chocolate. He was SO lonely. He dreamed of them holding hands on the beach, of spooning by the fire, of marriage and contentment. She was so nice…so perfect…
Monday night was a late night at work – a late train home – a late walk through the park toward his lonely apartment building. He saw her standing in the cold. She greeted him with a warm smile. They spoke together quietly. His fatigue melted into a pool of elation…anticipation…happiness. This was his moment! She was so much more wonderful than he ever dreamed. He asked her to join him for a drink – perhaps dinner – sometime? She smiled as she reached elegantly into her purse…pulled out an exotic handgun and forcibly inserted the barrel into his left nostril. And as she fleeced him of his wallet, cash and remaining self esteem, she melted into a screaming demon harpy…..and shot him in both kneecaps before she walked away.
He never saw her again but his loneliness wasn't much of an issue for a long while after.
***Aaaaaaaah!  There's nothing like a bit of romance to soothe those lonely winter nights.  This little piece sums it all up neatly for most people in our modern society.  Some writers waste volumes to essentially come to the same conclusion (though I have been known to be pretty cynical).  John's image was first published in the November 2013 issue of Analog Magazine.   -Marsha